Alexa Chung (edito)
|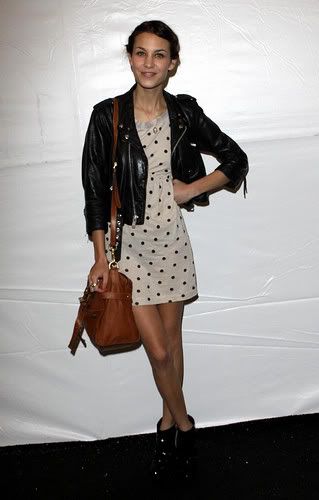 Si Alexa…te queremos, y es que no es para menos. Esta inglesa fue contratada en un primer momento como modelo por la agencia Strom Model Management, participando en diversas revistas y anuncios. Posteriormente apareció en videoclips de bandas como The Streets, Westlife, o Delta Goodrem. Años mas tarde se convirtió en la cara de British high street giant New Look y se unió a la agencia de modelos London-based.
Pero fue en su carrera en televisión donde encontró su verdadera pasión, y es que tras presentar varios programas en el canal 4 sobre moda y tendencias; su gran oportunidad le llegó con la oferta de MtV con el programa The Alexa Chung Show en el que se llevarán a cabo entrevistas con celebridades, música en vivo y la participación en directo de los espectadores.
En 2007, llamó la atención de la prensa de moda por su distintivo y peculiar estilo. Aparece con frecuencia en las listas de mejor vestida, en revistas de moda y en la primera fila de los desfiles de moda.
Después de este pequeño resumen sobre su vida laboral, he de decir que el estilo de esta chica es tan retro que me vuelve loca… tanto en su vestimenta de diario como en sus apariciones en la alfombra roja nunca defrauda.
¿que os parece a vosotros? a mí me encanta!
Por cierto que me han incluído en un artículo sobre outfits!
LINK
Y he de contaros que he aprobado todas!!! y una con un notable, estoy tan contenta 🙂
Os recuerdo que podeis votarme los que no lo hayais hecho en
Chicisimo
, muchas gracias a todos los que ya lo hayais hecho, gracias a vuestros votos sigo en los mejores outfits del mes!
Muchas gracias a Patri del blog

CALLA QUE NOS MIRAN

,por incluirme en su selección de los 10 mejores blogs!!! pinchad aquí para ver el link.